Wood fired bread & pizza oven
Many people would agree that cooking in a wood-fired oven evokes the romance of tradition. They might be surprised to learn that it can also be remarkably efficient. A wood-fired pizza oven can reach higher temperatures than a conventional domestic oven and has a more even temperature distribution, making it easy to cook a delicious pizza in just two or three minutes.
If pizza is not on your menu, you can also cook all manner of bread, meat, fish, vegetables, casseroles, cakes and puddings in clay ovens by taking advantage of the different stages of the heat cycle.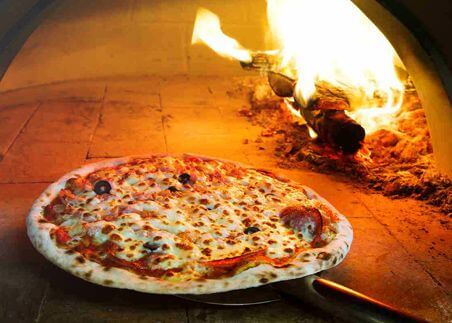 Cook wherever you want - Indoor or outdoor wood-fired pizza oven
When you are ready to explore the possibilities, we have a range of options to get you started. Our selection of ready-made wood-fired pizza ovens include models designed exclusively for outdoor use (i.e. in your own back garden or patio) and others which can be installed indoors. They act as a great alternative to a gas pizza oven. These indoor / outdoor ovens are supplied in a number of sections, according to size, and require assembly on site. We also provide advice and suitable products for supporting your
pizza oven
and for additional insulation to optimize performance.
Advantages of having outdoor pizza ovens
Authentic taste: Pizza ovens create a unique flavour that cannot be replicated by other cooking methods. The high temperature of the oven and the wood-fired flames produce a crispy crust and smoky flavour that is distinct and delicious.
Versatility: Outdoor pizza ovens can be used for more than just pizza. They can also be used to cook a variety of food, including bread, roasted vegetables, and even meats.
Convenience: Cooking in an outdoor pizza oven can be a fun and social activity, perfect for hosting gatherings or enjoying time with family and friends. Plus, with a pizza oven in your backyard, you won't have to leave your home to enjoy restaurant-quality pizza.
Energy efficient: Pizza ovens are designed to retain heat, which means they require less energy to maintain the desired temperature. They are also often made of materials that are designed to withstand high temperatures, making them durable and long-lasting.
Great design: Wood fire ovens may act as a focal point in your garden space.
Building brick oven for pizza from scratch
If you want to build your own pizza oven from scratch, we have all the materials you will need including firebricks, heatproof mortar, cement, insulation boards, fibre blanket, and pre cast arch sections to create a door opening. We also have thermometers, cast iron doors and flues to complete your design and accessories such as pizza peels, oven gloves and grill pans to help you get the most out of your cooking experience.
Pizza Oven Selection by Vitcas
Vitcas Casa
The Casa pizza and bread ovens are ideal for households and cosy restaurants that wish to serve traditional, homemade pizzas, breads and other delicacies. The wood-burning contributes to that unique taste which cannot be achieved by standard ovens.
Casa wood fired ovens are made from the highest quality refractories that also boast great insulation properties. The ovens come in parts which are easy and quick to assemble and this has partly contributed to their popularity among families and restaurants. Additional insulation and elements can be installed after the ovens have been assembled, which eliminates any problems.
There are two models of Casa ovens which vary in size. The Casa is ideal for families who desire to bring a traditional touch to their meals and the Double Casa which can fit more pizzas and is ideal for larger families or small restaurants.
Vitcas Pompeii - wood fired pizza outdoors
The Pompeii oven series is the perfect addition to your garden and due to its size, it can also be used for commercial purposes, such as for restaurants, hotels, bars and pubs with outdoor gardens, pizzerias or open-air festivals. This is due to their larger size and higher capacity for cooking several pizzas simultaneously. There are four ovens in this series: the smallest Pompeii oven can hold up to 4 pizzas at a time, while the largest Pompeii can hold up to 7.
They are manufactured from the best quality refractories and have excellent heat accumulation when insulated properly. This makes them perfect for meals which require slow wood fired cooking.
Despite their larger size, they are equally as straightforward to assemble as other Vitcas ovens. They offer flexibility as one can finish their oven in any way as to fit their desired aesthetic. The Pompeii ovens are suitable for use outdoors or indoors. It is a much more robust solution than portable pizza ovens and more efficient than a multi fuel pizza oven.
Vitcas Brick Ovens - outdoor pizza oven
The Outdoor Brick ovens are a perfect accessory to your garden or outdoor restaurant space. Perfect for hosting anything from a pizza party, whole banquet or customers in your restaurant. Not only are they aesthetically pleasing due to their traditional brick build, but they are also incredibly efficient. They can hold heat from the previous day to heat up a meal. This is virtue to being manufactured from high quality fire proof and heat resistant bricks, coupled with excellent insulation.
They are simple and fuss-free to assemble. There are two sizes of the Brick ovens. The Brick-S is suitable for families and the Brick-L is fitting for larger households and commercial use, with a high pizza capacity of 6 at a time.
Outdoor Pizza Ovens from Vitcas
An outdoor pizza oven is a culinary delight for pizza enthusiasts and cooking outdoors. Designed specifically for cooking pizzas in an open-air setting, these ovens bring the authentic taste and experience of traditional wood-fired pizzas right to your backyard or outdoor kitchen. With their ability to reach high temperatures quickly and efficiently, outdoor pizza ovens produce crispy crusts, perfectly melted cheese, and smoky flavours that are hard to replicate with conventional ovens. Whether you're hosting a backyard gathering or simply craving a homemade pizza with a touch of rustic charm, an outdoor pizza oven is the ultimate addition to elevate your outdoor cooking experience.
Watch presentations of our products