Wood fired bread & pizza oven
Many people would agree that cooking in a wood-fired oven evokes the romance of tradition. They might be surprised to learn that it can also be remarkably efficient. A wood-fired pizza oven can reach higher temperatures than a conventional domestic oven and has a more even temperature distribution, making it easy to cook a delicious pizza in just two or three minutes.
If pizza is not on your menu, you can also cook all manner of bread, meat, fish, casseroles, cakes and puddings in clay ovens by taking advantage of the different stages of the heat cycle.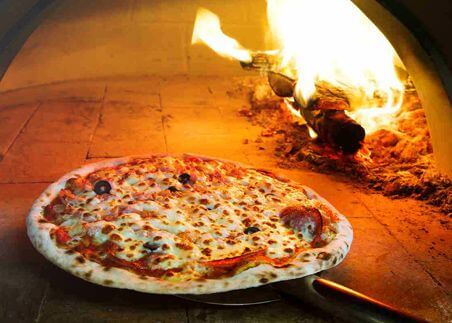 When you are ready to explore the possibilities, we have a range of options to get you started. Our selection of ready-made ovens include models designed exclusively for outdoor use and others which can be installed indoors. These indoor / outdoor ovens are supplied in a number of sections, according to size, and require assembly on site. We also provide advice and suitable products for supporting your pizza oven and for additional insulation to optimize performance.
If you want to build your own pizza oven from scratch, we have all the materials you will need including firebricks, heatproof mortar, cement, insulation boards, fibre blanket, and pre cast arch sections to create a door opening. We also have thermometers, cast iron doors and flues to complete your design and accessories such as pizza peels, oven gloves and grill pans to help you get the most out of your cooking experience.

Pizza Oven Selection by Vitcas