Heat Resistant Adhesive-Vitcas HB60
VITCAS® HB60 is a heat resistant adhesive designed for use in the construction of stoves, wood fired pizza ovens, tiled stoves and joining outdoor constructions, such as grills and fireplaces. It has a longer setting time which is easy to use and gives time to match elements. Perfect to render over the mesh used on construction boards before the application of VITCAS® Heat Resistant Plaster.

Dot and dab adhesive
Ideal for use as a 'dot and dab' method with high temperature plasterboards,
vermiculite boards
and
fireplace construction boards
where the surface is not particularly flat.
You can easily "dot and dab" plasterboard or any from our product that is designed as construction board. HB60 heat-resistant property allows the product to be used for fixing insulation boards to any surface that may exceed high temperatures, even up to 750 Celsius degree.
For what purpose can we use "dot and dab" technique?
Dot and dot plasterboard (Drylining) is a technique for fixing different types of board to a wall using dots and dots of adhesive at different (evenly spaced) points on the wall surface. It is used as a quick and effective way of plastering the wall and levelling the surface, without using wet plaster mixes, thus saving time waiting for the plaster to dry, it also means that the walls can be used more quickly for domestic use. The only downside is the acoustics of this type of room. A space is created in the gaps between the wall and the board, which resonates and amplifies the sound.
We invite you to take a look at our products for joining heat-resistant materials. HB 60 is a unique bonding compound that you will certainly use when building a fireplace surround.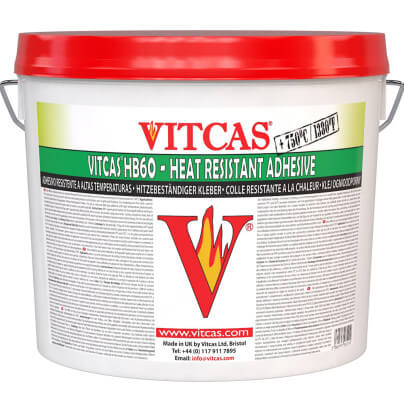 Coverage
Dot and Dab adhesive - 10 kg / 2m2 based on 25 mm thick dots at 300 mm centres