Rapid set high strength cement
Rapid Setting Cement is required in situations where it is not possible or very inconvenient to wait 24 hours before returning the repair or installation back into service. This is most common with work on toilets and with roads with high traffic requirements. It is important not to sacrifice the ultimate strength of the cement in order to achieve rapid setting.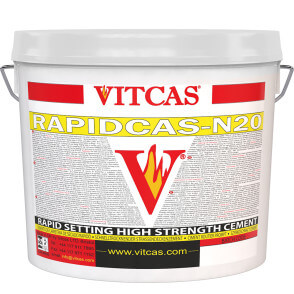 Rapid Setting High Strength Cement - Rapidcas N20
Rapidcas N20 is a special formulated sand/cement mix which is easy to use and trowel and designed to set hard in about 60 minutes. Rapidcas N20 is satisfactory for even the most arduous conditions e.g. open to traffic within 2 hours. It has good bonding strength especially when used in conjunction with a polymer primer which can also be used to advantage as a 10% addition to the mixing water.